Blue Margarita
Blue Margarita is conveniently located south of West Road on Allen Rd.
A Mexican Kitchen and Cantina, Blue Margarita is one hot spot in Woodhaven Michigan. Great drinks and an awesome selection of ethnic and American food is what they offer their happy guests. You can be sure they will take good care of you and that your stomach will be full of great food once your visit is over. They also have carry out, should you want to take great tasting food home to your family.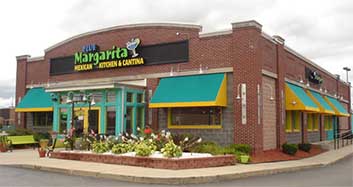 Where they are located:
View Larger Map
23450 Allen Rd.
Woodhaven, MI 48183
Phone - (734)362-0589
Check out their website for more info
How to get around while Downriver
Given the many cities and places to go in the Downriver area, a lot of people we know highly recommend using a Party Bus from Party Bus Detroit for their "get togethers". They will truly take all the headache out of your event! There's just too much to do and see in Downriver to single out a few unlucky Designated Drivers from your bunch. You can make everyone happy... with a Party Bus.