Club Polo
Club Polo is located in downtown Allen Park, right next to the famous Marshall Music Company.

Club Polo is one of the newest and trendiest venues you can find in the Downriver area. They feature a large dance floor with a laser light show, concert sound system, a gaming area with darts and several pool tables, VIP seating, a spacious bar area, and flat screen televisions to watch while you're taking a break from partying. Every day there is a different specials and events happening... so, there is never a bad day to visit Club Polo.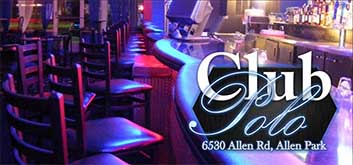 Where they are located:
View Larger Map
6530 Allen Road
Allen Park, MI 48101
Phone - (313)231-5816 Visit their blog here!
How to get around while Downriver
Given the many cities and places to go in the Downriver area, a lot of people we know highly recommend using a Party Bus from Party Bus Detroit for their "get togethers". They will truly take all the headache out of your event! There's just too much to do and see in Downriver to single out a few unlucky Designated Drivers from your bunch. You can make everyone happy... with a Party Bus.