Drink's Saloon
Get your Drink on at Drinks! Located on Allen Road between Sibley and King, Drink's is never too far away.

Drinks Saloon is a great place to have awesome food, relaxed atmosphere, and great times! They offer specials on game days, and big screen TV's spread throughout, so you can watch your favorite local team battle it out. Drinks offers a variety of conveniences, from veranda seating (weather permitting... it is Michigan after all), pool tables, and an extended Happy Hour from 3-8pm on weekdays. Occasionally, you'll walk in and find your favorite local band playing. You can stop in any time to get their current event calendar which also features the monthly promotions to look forward to. No matter when or why you visit, you'll find friendly folks, good food, and your favorite drink waiting for you when you arrive!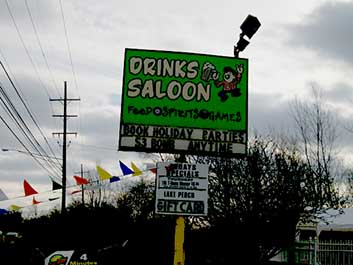 Where they are located:
View Larger Map
19380 Allen Rd
Brownstown, MI 48183
Phone - (734)479-0260

How to get around while Downriver
Given the many cities and places to go in the Downriver area, a lot of people we know highly recommend using a Party Bus from Party Bus Detroit for their "get togethers". They will truly take all the headache out of your event! There's just too much to do and see in Downriver to single out a few unlucky Designated Drivers from your bunch. You can make everyone happy... with a Party Bus.