Sneaky's Sports Bar & Grill
North of West Road, Sneaky's can be found right on Allen Road.
Sneaky's is near the top of the list for great visits Downriver! They have a simple menu, but the food is great and comes out quickly and HOT! Friendly service too, is always on the menu. The fully stocked bar is full of a superb selection of liquors and beers. The guests are always happy, which reflects the superb service they are receiving.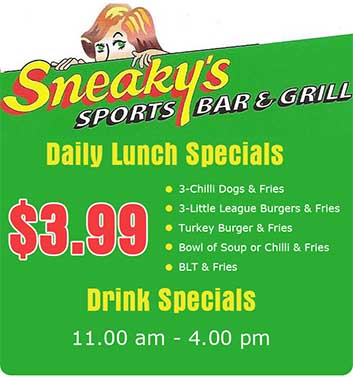 Where they are located:
View Larger Map
22301 Allen Rd.
Woodhaven, MI 48183
Phone - (734)692-7470

How to get around while Downriver
Given the many cities and places to go in the Downriver area, a lot of people we know highly recommend using a Party Bus from Party Bus Detroit for their "get togethers". They will truly take all the headache out of your event! There's just too much to do and see in Downriver to single out a few unlucky Designated Drivers from your bunch. You can make everyone happy... with a Party Bus.