Jerzey's Sports Bar & Grill
Found on Fort Street in between West Road and King Road, Jerzey's is a great choice for a place to spend the evening!
Jerzey's is a premier Sport spot in Downriver Michigan. They offer a menu chock full of barbecue, burgers, sandwiches, meals, and appetizers. Not to mention a cooler full of liquor and frosty mugs full of beer. Don't miss a game! Jerzey's has all of the sport packages to insure that every game can be on while you're there. Every seat puts you in the front row at Jerzey's!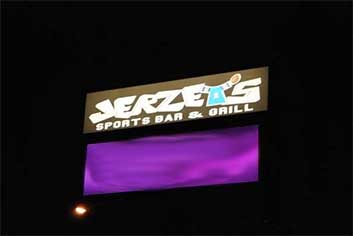 Where they are located:
View Larger Map
2385 Fort St.
Trenton, MI 48183
Phone - (734)675-2300
Check out their website for more info
How to get around while Downriver
Given the many cities and places to go in the Downriver area, a lot of people we know highly recommend using a Party Bus from Party Bus Detroit for their "get togethers". They will truly take all the headache out of your event! There's just too much to do and see in Downriver to single out a few unlucky Designated Drivers from your bunch. You can make everyone happy... with a Party Bus.