Gold Star Bar
The Gold Star Bar is a friendly neighborhood bar nestled in suburban Wyandotte on Vinewood between 9th and Cora St.
The Gold Star Bar is your friendly hometown bar. A hidden gem full of laid back patrons and super friendly staff. They offer great food, typical of the genre, and drinks ready to satisfy your thirst. To entertain you while you're drinking or dining, you can watch one of their big screen TV's, or spend time shooting pool, throwing darts, or playing one of their other variety of games. Gold Star quite succinctly describes the experience of this tucked away beauty!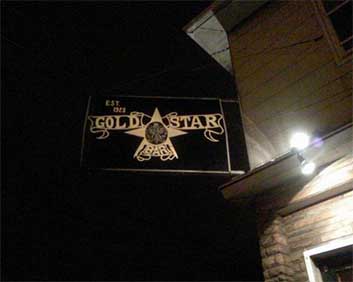 Where they are located:
View Larger Map
898 Vinewood St.
Wyandotte, MI 48192
Phone - (734)281-9464

How to get around while Downriver
Given the many cities and places to go in the Downriver area, a lot of people we know highly recommend using a Party Bus from Party Bus Detroit for their "get togethers". They will truly take all the headache out of your event! There's just too much to do and see in Downriver to single out a few unlucky Designated Drivers from your bunch. You can make everyone happy... with a Party Bus.