The Lighthouse Pub
The hidden gem of Downriver, you can find The Lighthouse on West Jefferson just South of Southfield Road.

Since 2008 The Lighthouse has been featuring live music and DJ's. There is little doubt that The Lighthouse Pub is one of the prime spots to have a great time while Downriver. They have specials every day to round out their already great prices. On Friday's nights you'll find the dance floor will be packed with patrons, but that's not the only entertainment available... so, while you're taking a break from the dance floor, you can cue up for a game of pool with your friends, or have a smoke break on their patio. The Lighthouse is well known for their friendly and competent staff, as well as their excellent food. Stop in at The Lighthouse! You won't regret it.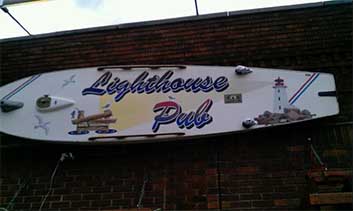 Where they are located:
View Larger Map
4474 W. Jefferson Ave.
Ecorse, MI 48229
Phone - (313)388-9251
Visit them on Facebook!
How to get around while Downriver
Given the many cities and places to go in the Downriver area, a lot of people we know highly recommend using a Party Bus from Party Bus Detroit for their "get togethers". They will truly take all the headache out of your event! There's just too much to do and see in Downriver to single out a few unlucky Designated Drivers from your bunch. You can make everyone happy... with a Party Bus.