ScoreBoard Lounge
The ScoreBoard is located conveniently near the Southfield Freeway and Telegraph Road in Allen Park Michigan.

If you love beer and sports, you'll want to check out the family owned ScoreBoard in Allen Park. You'll find that they often have specials which make them an even better deal on top of their standard low prices. ScoreBoard carries a majority of the standard domestic and imported beers, and are proud to carry a growing amount of Michigan made brews. If they don't have your favorite beer on tap, be sure to ask them if they carry it in bottle. The staff is quite friendly, and will happily take recommendations from you so they can add different brews to their already extended variety of offerings.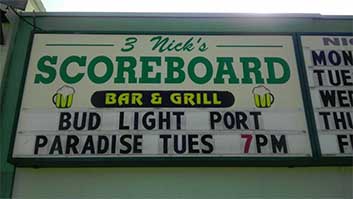 Where they are located:
View Larger Map
18713 Van Born Rd
Allen Park, MI 48101
Phone - (313) 563-8349
Email : scoreboard@3nicksbars.com
How to get around while Downriver
Given the many cities and places to go in the Downriver area, a lot of people we know highly recommend using a Party Bus from Party Bus Detroit for their "get togethers". They will truly take all the headache out of your event! There's just too much to do and see in Downriver to single out a few unlucky Designated Drivers from your bunch. You can make everyone happy... with a Party Bus.