Moose MacGregor's
Conveniently located on Telegraph Road, Moose MacGregor's can cater to all crowds.

With wonderful staff, Moose MacGregor's is able to comfortably accomodate your family or your party. Moose MacGregor's is family friendly before 10pm, and has a full menu of homestyle meals to satisfy any appetite. They've been serving Downriver since 1995, and have been making people feel at home since their first day! From couples nights, karaoke, ladies nights, and live music; Moose MacGregors has the entertainment you and your group are looking for. On those comfortable summer nights, you can get full service in their open air patio. Or, just to get a breath of fresh air. Only thing they ask, for larger groups... give them 24 hour notice to make sure you are well accomodated.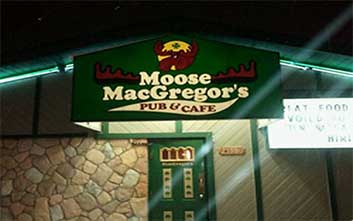 Where they are located:
View Larger Map
21980 Telegraph Rd
Brownstown, MI 48183
Phone - (734)675-3870
Visit their web page here!
How to get around while Downriver
Given the many cities and places to go in the Downriver area, a lot of people we know highly recommend using a Party Bus from Party Bus Detroit for their "get togethers". They will truly take all the headache out of your event! There's just too much to do and see in Downriver to single out a few unlucky Designated Drivers from your bunch. You can make everyone happy... with a Party Bus.