Fort Street Brewery
Located on the corner of Fort Street and Warwick Ave, this micro brewery/sports bar has quickly become a favorite destination in Downriver!

The Fort St. Brewery firsted opened it's doors on 14 February 2005 as the pinnacle of achievement for it's owner, Pete Romain. Since that time Pete has grown his business into the destination for anyone looking for a great micro brewed beer in Downriver.

The Fort Street Brewery is not just about the beer however. They pride themselves on providing a quality experience, regardless of why you walked in the door. We concur. The Fort Street Brewery is a top notch establishment featuring much more than excellent food and drink. They often host events and have standard entertainment which includes Club Keno, trivia, video games, darts, pool, and even a jukebox. It is an exceptionally clean establishment which can accomodate groups both large and small, as well as patio seating for the warm Michigan summer months. Be sure to stop in on Thursdays and try out the latest new brew which, are released each and every week!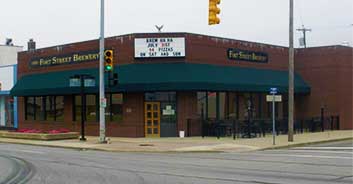 Where they are located:
View Larger Map
1660 Fort St.
Lincoln Park, MI 48146
Phone - (313)389-9620
Visit them on Facebook or, check out their website for more info!
How to get around while Downriver
Given the many cities and places to go in the Downriver area, a lot of people we know highly recommend using a Party Bus from Party Bus Detroit for their "get togethers". They will truly take all the headache out of your event! There's just too much to do and see in Downriver to single out a few unlucky Designated Drivers from your bunch. You can make everyone happy... with a Party Bus.