Trolley Stop Lounge
Visit the landmark Trolley Stop Lounge on Pelham Road in Taylor Michigan.
Trolley Stop has become almost an iconic location in Downriver. Recently renovated, trolley stop offers a great atmosphere to enjoy tasty food and a great variety of drinks. The Trolley Stop is always busy, and is a great gathering place and has a loyal group of regulars who are always welcoming to the newcomer. Trolley stop even offers online ordering for carry out. How's that for convenience? Though not known as a "sports bar" Trolley Stop has plentiful big screen TV's around for you to watch the game on. A welcoming atmosphere, the Trolley Stop is always worth a visit!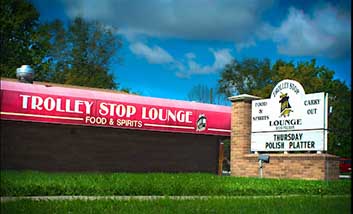 Where they are located:
View Larger Map
8820 Pelham Rd.
Taylor, MI 48180
Phone - (313)406-4258
Visit them on Facebook or Check out their website for more info
How to get around while Downriver
Given the many cities and places to go in the Downriver area, a lot of people we know highly recommend using a Party Bus from Party Bus Detroit for their "get togethers". They will truly take all the headache out of your event! There's just too much to do and see in Downriver to single out a few unlucky Designated Drivers from your bunch. You can make everyone happy... with a Party Bus.