Stone Pub
Stone Pub can be easily found just a block off of Biddle on Sycamore St in Downtown Wyandotte.
Stone Pub opened it's doors in 2008, and is described by folks we've talked to as a wonderful "no frills" pub. We think you'd be hard pressed to find a better place to kick back and relax while enjoying a fine drink or appetizer. They offer a roving beer of the month at a discounted rate, which offers you a "low risk" opportunity to try something different. Also worth mentioning is their diverse selection of liquors and cocktails. Stone Pub offers sidewalk seating as permitted by the unpredictable Michigan weather, and nightly shot and drink specials to top off their beer of the month special. Stone Pub is a great place to enjoy your drinks while listening to live music, or just socializing with friends or congenial local regulars.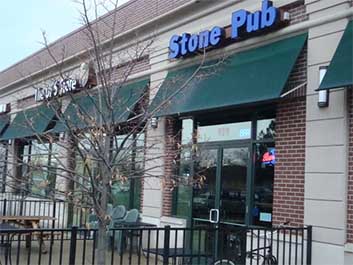 Where they are located:
View Larger Map
132 Sycamore St.
Wyandotte, MI 48192
Phone - (734)285-6104

How to get around while Downriver
Given the many cities and places to go in the Downriver area, a lot of people we know highly recommend using a Party Bus from Party Bus Detroit for their "get togethers". They will truly take all the headache out of your event! There's just too much to do and see in Downriver to single out a few unlucky Designated Drivers from your bunch. You can make everyone happy... with a Party Bus.