Marlow's Chill and Grill
Home to the purported best New York Strip in town, you can find out for yourself: As Marlow's is just south of West Road on Telegraph.

A common thread to anyone who has eaten at this sports bar, is that their steaks are top notch. What more could a man ask for, than some big screen TV's, great drinks, live entertainment, top notch service,AND great food?! We don't know either. Marlow's has been a mainstay in the Southern reaches of the Downriver area for years, and we're glad for that. It truly is a unique place which takes "bar cuisine" to a whole new level.

Oh! Before we forget... you football fans might be interested to know they also have the NFL Sunday Ticket. Yes, you can get it all, only at Marlows.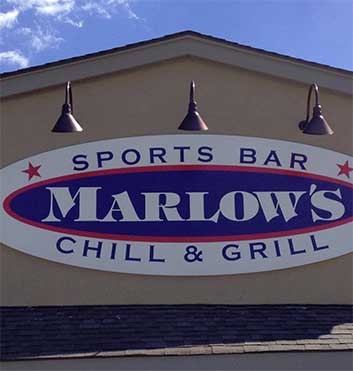 Where they are located:
View Larger Map
23307 Telegraph
Brownstown, MI 48134
Phone - (734)362-0988
Visit their Facebook page here!
How to get around while Downriver
Given the many cities and places to go in the Downriver area, a lot of people we know highly recommend using a Party Bus from Party Bus Detroit for their "get togethers". They will truly take all the headache out of your event! There's just too much to do and see in Downriver to single out a few unlucky Designated Drivers from your bunch. You can make everyone happy... with a Party Bus.