Studio 142
In the heart of downtown Wyandotte, Studio 142 is on Maple in between 1st and 2nd streets.
Studio 142 is one of the few true dance clubs in Downriver. They feature house DJ's on Friday and Saturday nights so you can dance your night away happily while sampling their wide selection of cocktails and beers. Also available for groups and parties, the Studio 142 can be rented out to accomodate up to 315 folks. While they don't offer a full menu, they do have an appetizer should you want to snack on something in between dances. This is a fun destination, we recommend checking it out on any given Friday!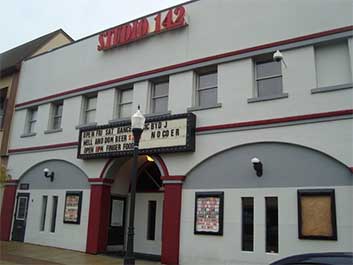 Where they are located:
View Larger Map
142 Maple St.
Wyandotte, MI 48192
Phone - (734)283-5222

How to get around while Downriver
Given the many cities and places to go in the Downriver area, a lot of people we know highly recommend using a Party Bus from Party Bus Detroit for their "get togethers". They will truly take all the headache out of your event! There's just too much to do and see in Downriver to single out a few unlucky Designated Drivers from your bunch. You can make everyone happy... with a Party Bus.