Frank's Italian Pizzeria
Located near the end of the downtown Wyandotte strip on Biddle Ave Frank's offers great food and drink at remarkably low prices.
If ever there was a mainstay in the Wyandotte area, Frank's is it! They have been serving the best pizza downriver for over 40 years and counting. While clean, Frank's interior is much the same as it was when it opened. As a result, it's much like taking a trip back in time when you enter this classic location. Regardless of what you choose on the menu, you will be sure to get a fresh, tasty, and hot meal. They also do have a modest selection of drinks, wines, and beer to accompany your meal. Be sure to bring cash though! Frank's does not take plastic.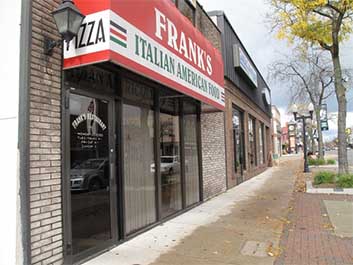 Where they are located:
View Larger Map
3144 Biddle Ave.
Wyandotte, MI 48192
Phone - (734)282-0512

How to get around while Downriver
Given the many cities and places to go in the Downriver area, a lot of people we know highly recommend using a Party Bus from Party Bus Detroit for their "get togethers". They will truly take all the headache out of your event! There's just too much to do and see in Downriver to single out a few unlucky Designated Drivers from your bunch. You can make everyone happy... with a Party Bus.