Speedboat Bar & Grill
Find the Speedboat just north of Goddard Rd on Biddle Ave.
Speedboat Bar and Grill offers great food at even better prices. Their burgers are always fresh and deliciously juicy! They also offer a selection of tasty fried foods and sandwiches to satisfy your hunger. Their bar is always stacked with ice cold drinks, and they have specials to entice you even further. They even offer music and have a karaoke night which is usually on Fridays. To top it all off, the staff is friendly and genuinely courteous. A visit to the Speedboat will not disappoint!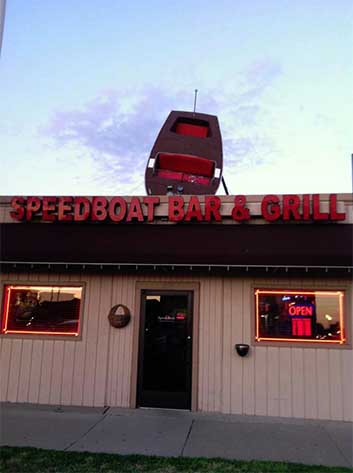 Where they are located:
View Larger Map
749 Biddle Ave.
Wyandotte, MI 48192
Phone - (734)282-5750
Visit them on Facebook
How to get around while Downriver
Given the many cities and places to go in the Downriver area, a lot of people we know highly recommend using a Party Bus from Party Bus Detroit for their "get togethers". They will truly take all the headache out of your event! There's just too much to do and see in Downriver to single out a few unlucky Designated Drivers from your bunch. You can make everyone happy... with a Party Bus.