Joe's Prime Time Pub
Joe's Prime Time stands alone, as a Southern Downriver mainstay located right on Fort Street.

There is no crying or whining allowed at the "good time only" Joe's in Brownstown (or Gibraltar, depending on who you ask) Michigan. Offering one of the thickest, juiciest burgers around, Joe's is always a great place to visit. Besides the awesome food, Joe's can offer a stiff drink and a ice cold beer to help whet any appetite that you bring through the door. Last but not least, what good is awesome food and drink, without awesome staff to serve you? Well, Joe's has that covered too. Patrons have noted that the waitstaff will "fight" over waiting on you... we guess there is only one way to test that statement: Visit Joe's today!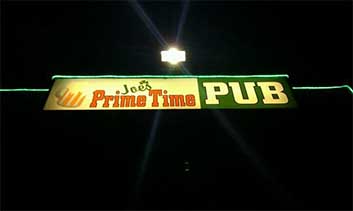 Where they are located:
View Larger Map
27845 Fort St.
Brownstown, MI 48173
Phone - (734)675-2725
Visit their Facebook page here!
How to get around while Downriver
Given the many cities and places to go in the Downriver area, a lot of people we know highly recommend using a Party Bus from Party Bus Detroit for their "get togethers". They will truly take all the headache out of your event! There's just too much to do and see in Downriver to single out a few unlucky Designated Drivers from your bunch. You can make everyone happy... with a Party Bus.